A CRM Leadership Journey

Client Services and Support AVP Cathy O'Bryan reflects on lessons learned while leading the charge to implement Salesforce across all of IU...
---
Expansion of Salesforce use Across IU Well Underway
Thursday at the IU Northwest campus in Gary, information technology leadership updated the IU trustees on the IU CRM initiative...
---
IU Enrolls Salesforce to Connect with Prospects, Students, and Staff
Competition for students has become fiercer for colleges. Seeking an advantage, Indiana University implemented an enterprise-wide constituent relationship management (CRM) system...
---
IU CRM Wins Salesforce.org Excellence in Innovation Award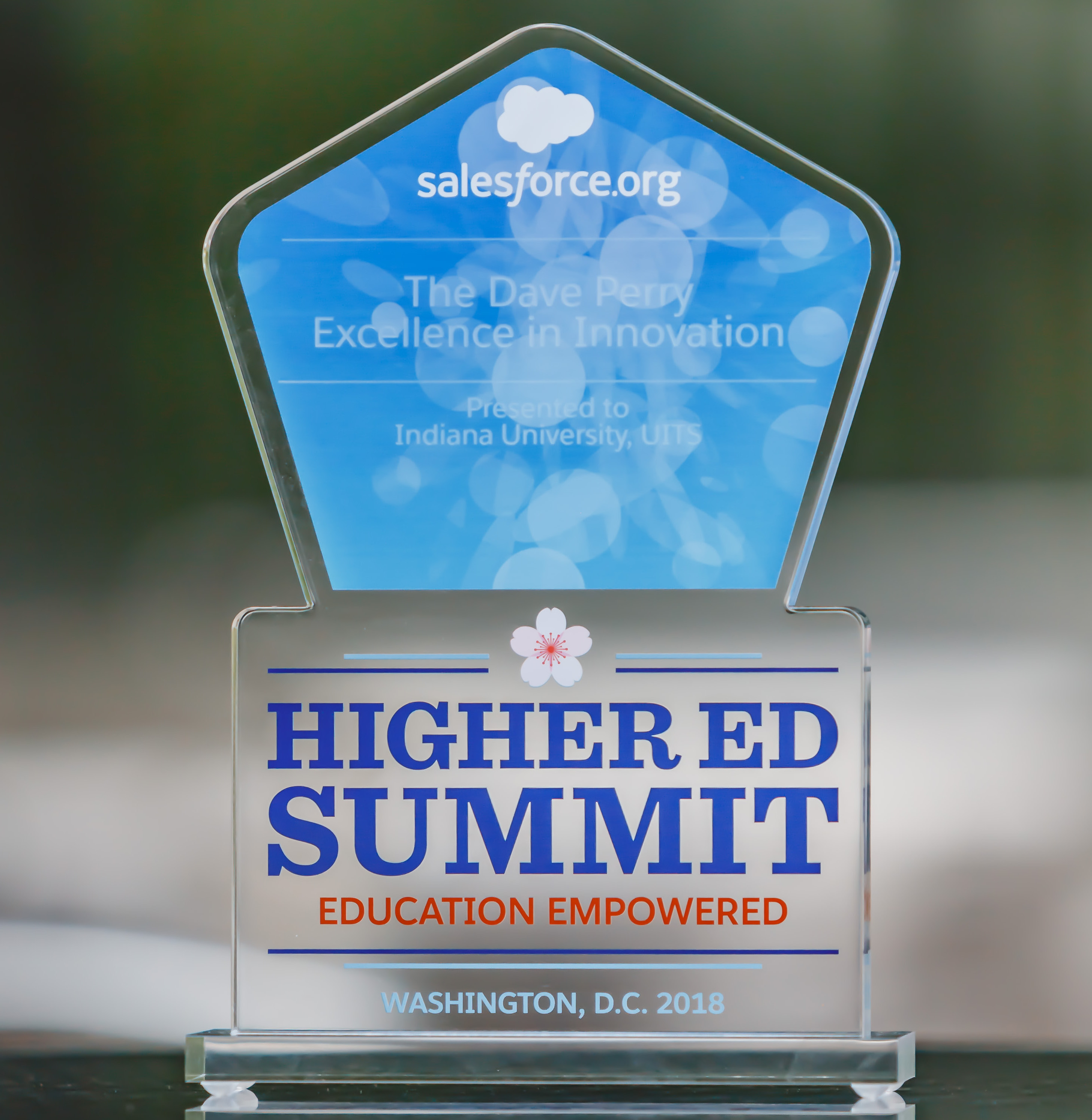 Indiana University is a pioneer in embracing the Connected Campus vision. They have successfully implemented Marketing Cloud enterprise-wide...
---
A More Connected Campus: Why IU Chose Salesforce
With over 1.5 million members of the IU community, Indiana University needed to efficiently and effectively solve our data silo challenges...
---
How to Choose a Campus-wide CRM
Cathy O'Bryan, Associate Vice President for Client Services and Support at UITS, writes about the problem of data silos (and how to fix it) in this eCampus News feature...
---
A New Salesforce Journey Begins
CIO Brad Wheeler explains how IU's new agreement with the CRM giant is meant to improve experiences across the entire university...
---
Indiana University Expands CRM with Salesforce.org
As Salesforce expands in the Hoosier state, IU expands with Salesforce for a unified view of constituents...
---
Indiana University Expands Use of Salesforce CRM
Having long used Salesforce.org's constituent management system for student recruiting, Indiana University is now expanding its deployment of technology university-wide, to improve the way it the institution interacts with students, faculty, staff and other constituents...